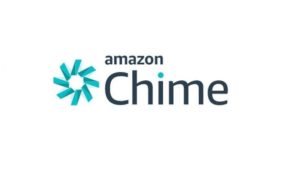 Amazon Chime is a video conferencing app like Zoom, Skype, Google Meet, GoToMeeting, Webex and others.  It can be used from a browser window (Chrome or Firefox), on mobile devices by downloading the app from iTunes or Google Play, or you can download and install the Chime app.  Participating in a Chime event does not require you to create any type of login or account.  And if you use the browser from a computer or laptop, you do not need to install any software.
While Chime does work on mobile devices, if you are attending an event with a presentation and you want to ask questions in the chat box, you'll have the best experience on a computer or laptop.
How to join using a PC or Laptop
If you are using a PC or a Laptop, you can access the meeting by clicking on the meeting link to open a browser. Chime supports Google Chrome and Firefox browsers for online meetings. If your computer uses Safari or Microsoft Edge as the default browser, you'll need to have either Google Chrome or Firefox installed and use one them to join the meeting.
Click to download Chrome
Click to download Firefox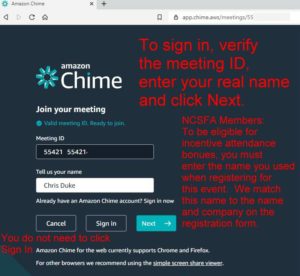 Once you click on the meeting link and it starts in Chrome or Firefox, it should have the correct meeting ID entered for you.  If your default browser is Safari or Microsoft Edge, start Chrome or Firefox and copy the meeting link to the URL bar.  Enter your name and click on the Next button.  Do NOT click the sign in button – you do not need to sign in to join the meeting. The screen will look something like this:
NOTE: You may also see pop up windows asking permission for Chime to use your microphone and/or webcam or something else.  You must select 'yes' or 'allow', otherwise you may not be able to join the conference.
You will also be asked if you want to use the computer's microphone and speakers.  If your PC or laptop has a webcam and microphone, answer yes to use this option.  Once you have joined the conference using a browser, your screen will look like this: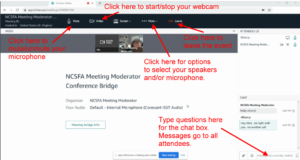 How to join using a mobile device
If you cannot join using your computer and must use a mobile device, you will need to download the Chime app from iTunes (Apple) or Google Play (Android).  When you try to open the meeting link on your phone, it should look for the Chime app to start the meeting.  If you have Chrome installed on your phone, it may ask you to use Chrome, then it will start the Chime app.
If you have problems starting the meeting from the link in your email, you can simply open the Chime app on your phone, enter the Meeting ID and join.  Again, please do not click on 'login' – simply join the meeting with the Meeting ID.  The screen will be similar to the web experience shown above in that you will need to grant permission for Chime to use the audio and video on your phone.  Please grant permissions so that Chime can use your camera and microphone. Here are some examples of screens on the mobile app: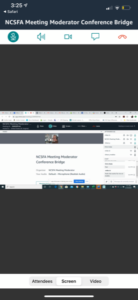 IOS App
Android App
Answers to common questions:
How do I join a Chime meeting?
You should have received an email with a link to the meeting and a Meeting ID.  Click on the link to open in your browser, then enter the Meeting ID.  You do not need to create any type of account to join a Chime meeting.
Do I have to have a webcam to use Chime?
No.  You can login to Chime from any web browser whether or not your computer has a webcam or not.  If you don't have a webcam, you obviously can't activate video – other participants will not be able to see you.
What if I don't have good Internet access – can I call into the meeting?
Yes.  There will be a dial in number provided.  However, keep in mind that if you only call in from a phone and do not log in to the event, the moderator will not have a record of your name.  NOTE:  In the case of the Summer of Motion event series, members who do not login via a computer or mobile device will not qualify for entry into the Attendance Incentive bonuses.
Can I ask questions during the presentation?
Yes.  A moderator will be monitoring questions during presentations.  Attendees will be muted during the presentation.  You may type your question in the chat window.
Can I use audio to ask questions during a presentation?
No.  Presentations are conducted in Event Mode.  All attendee audio and video is muted.  The presenters may choose to un-mute audio at the end of the event for Q&A.